Peter Bailey
Champion of Diversity (Hope) 
Peter Bailey has worked for 30 years as a Career Development Practitioner at Free Rein Associates, which he owns with his wife, Linda.  
With a diverse background and firsthand experiences of poverty, Peter has been involved with activism since he was a teenager. His efforts focus on social justice issues faced by marginalized members of society – such as housing, food security, education, and employment.  
He volunteers extensively as a mentor to young students, with Hope Community Services, the Regional Diocesan Council, and ASPECT BC. 
He also sits on the Hope Inclusion Project Committee, where he serves as part of the Action Response Table, Hope Healthy Communities, Pride, and the Truth and Reconciliation Committee to bring forward the voice of inclusion.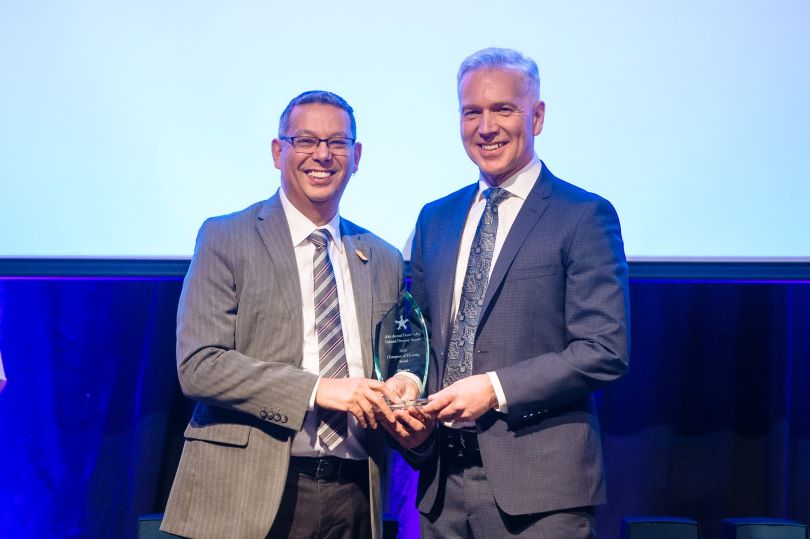 Peter Bailey (Left) with Mayor Ross Siemens who presented the award on behalf of sponsor Envision Financial
Lily Renaud
Youth Champion of Diversity (Chilliwack)
Lily Renaud, currently a grade 12 student, has been involved in many service clubs, social events, and other activities. She has supported fundraisers for cancer research; food, shelter, and clothing drives; and promoted female empowerment in her school. She also works after-hours with various children as part of the Big Brothers Big Sisters Mentorship program, and the Girls to the Power of Math Organization.   
She helped found the Indigenous Leadership Club at G.W Graham Secondary School. As an Indigenous woman, she recognizes the impact that common stereotypes can have on people – especially youth – and is addressing them through education that focuses specifically on Indigenous cultures.  
In an effort to further promote diversity and inclusiveness in the community, Lily is also a member of the Youth Advisory Committee in Chilliwack. Her chosen initiative provides children access to healthcare products and education that promote proper hygiene.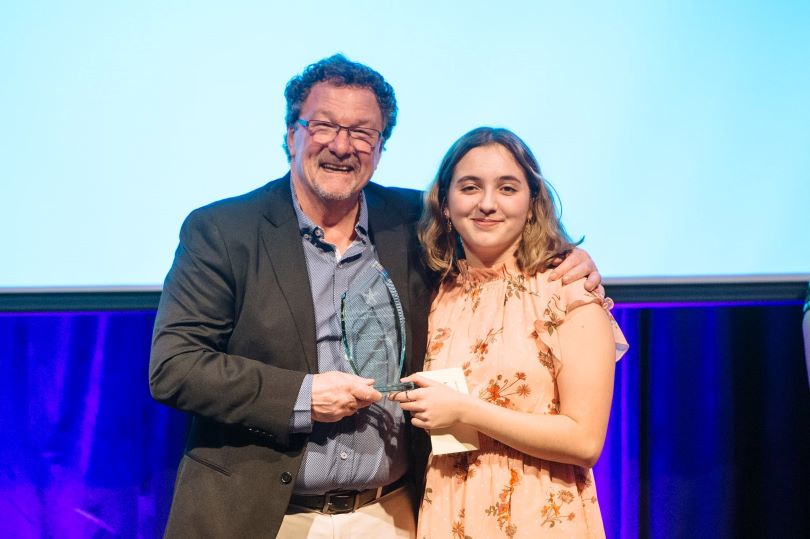 Lily Renaud with school trustee Korky Neufeld representing award sponsor Abbotsford School District
Jelly Digital Marketing & PR
Diversity in Marketing – Langley 
Jelly Digital Marketing & PR was started in 2014 and is proud to serve the Fraser Valley and clients around the world. Creatively pushing the boundaries of what's possible in digital marketing, the Jelly team helps clients achieve the best results for their businesses. 
As an Indigenous owned agency, Jelly actively works with Indigenous clients and creators, and advocates for economic reconciliation. Externally, Jelly has also worked with a wide variety of diverse clients to support initiatives that address things such as fair wages, ethical employment standards, and providing resources for those who are neurodiverse.  
Jelly celebrates and supports its inclusive and diverse team through their 5 inter-dependent core values: Fairness, Prudence, Humility, Temperance, and Courage. These values are exhibited regularly in their hiring practices, office culture, and celebration and support of their diverse team. Through them, they embrace diversity, and create a welcoming environment for their diverse staff and clients.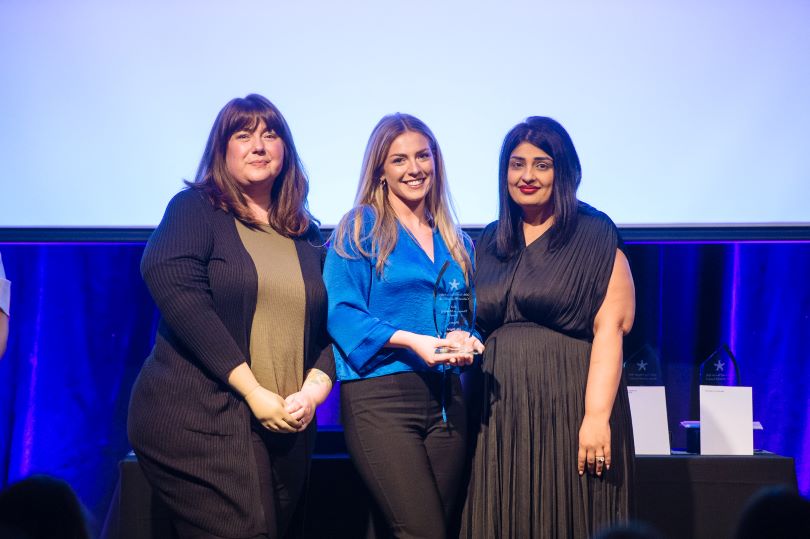 Jelly Digital Marketing & PR (Left) with award sponsor WorkSafe BC
Oui Entertain! Inc.
Effective HR Strategies (Abbotsford)
Established in 2010 by newcomers to Canada, Oui Entertain offers event management and experiential marketing to corporations across the lower mainland. This is often done through Character Experiences involving elves, Easter bunnies, and other mascots.  
It doesn't matter what background or education one has; everyone is welcome to be a part of the Oui Team. Their team members represent over 12 different cultures, languages, and nationalities and their diversity helps enhance the guest experience. 
They provide training that allows staff to develop new skills that transfer to other areas in their lives and do their best to support their team outside of work as well. 
Oui Entertain has several long term employees and supports members who have moved outside of BC with remote work opportunities.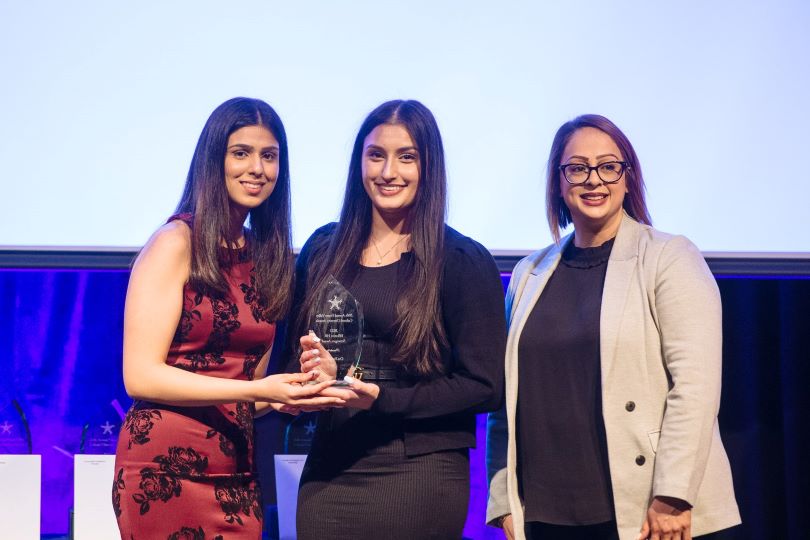 Oui Entertain! Inc. (Left) with award sponsor Vancity
Project AIM
Innovative Initiative (Small) (Agassiz)
Project AIM is a female-led organization that provides barrier-free access to, and education regarding, incontinence and menstrual products for those in need. Formed in 2020, the Project AIM team primarily serves the Fraser Valley and has grown to include a rich variety of volunteers that provide different perspectives, ensuring they meet the needs of our diverse population.  
Their goal is to provide each client with the specific products that fit their individual needs and preferences. They do this by offering education and access to a range of products, and removing associated financial barriers.  
They also employ a variety of outreach methods in order to provide items to as many folks as possible. These include various pick-up locations, drop-off and delivery options, and partnerships with organizations that are already established – such as Indigenous organizations, community free cupboards and libraries, community service organizations, and local businesses.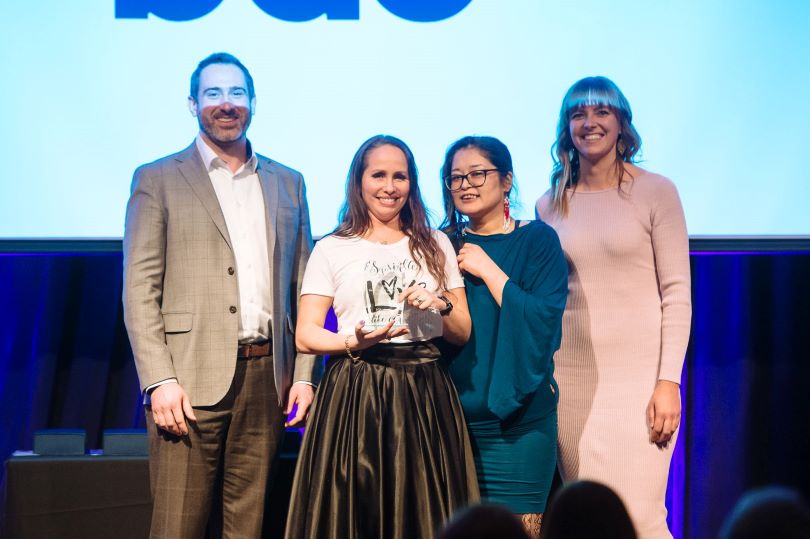 Project AIM (Right) with award sponsor BDC
AgSafe Agriculture Association
Innovative Initiative (Med/Large) (Langley)
Since beginning in 1993 as a joint initiative between WorkSafeBC and agricultural and worker stakeholders, AgSafe has grown to become a leader in providing informed workplace safety and education resources. 
Their mission is to create a safe and healthy work environment in BC agriculture through outreach and an active program of education, training and consultation in all regions of the province. 
Resources range from generally applied information such as new worker orientation and emergency preparedness, to more specific in-depth resources to address bullying and harassment and personal mental wellness. 
Recognizing the diversity in the industry, AgSafe endeavours to provide their resources in English, Punjabi and Spanish so employers and employees can use them to work together. This commitment also creates employment opportunities for those who speak a variety of languages, and has proven to be extremely beneficial to their team.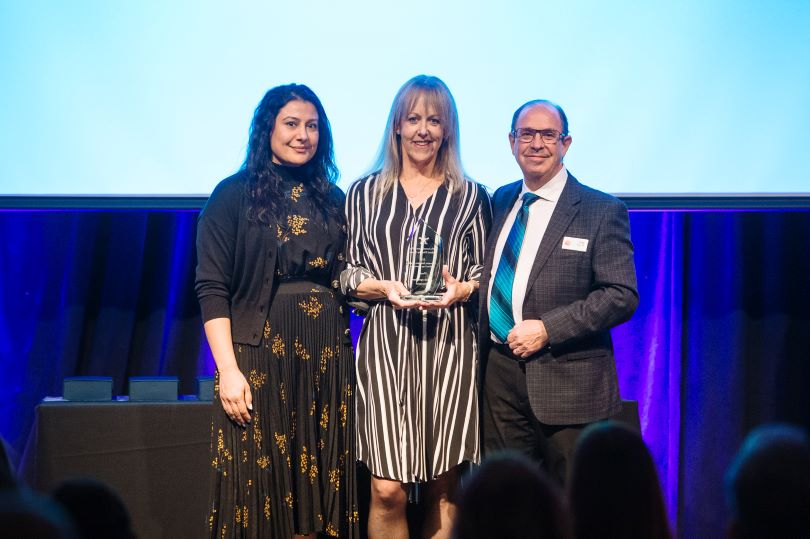 BC AgSafe Agriculture Association (Left) with award sponsor United Way
Abbotsford Arts Council
Inclusive Environment (Small/Med)  (Abbotsford)
Established in 1971, the Abbotsford Arts Council acts as a resource for local artists while promoting the vision, creativity and energy of the community through the arts.  
Their values include safety, inclusion, reconciliation, decolonization, and Indigenization.  
Almost all of their events are free to attend – including Jam in Jubilee and Mill Lake Music, family-friendly outdoor concert series' that feature local artists every summer. They also host the annual Arty Awards, honouring local artists of all practices.  
The Abbotsford Arts Council also operates the Kariton Gallery in Mill Lake Park, which features monthly curated visual art exhibitions, as well as 3-4 open calls for community artists to participate. The Gallery's programming includes an annual Women in Art exhibition, and The Downie Wenjack Legacy Space, which features quarterly exhibitions by local Indigenous visual artists in collaboration with the Gord Downie and Chanie Wenjack Fund.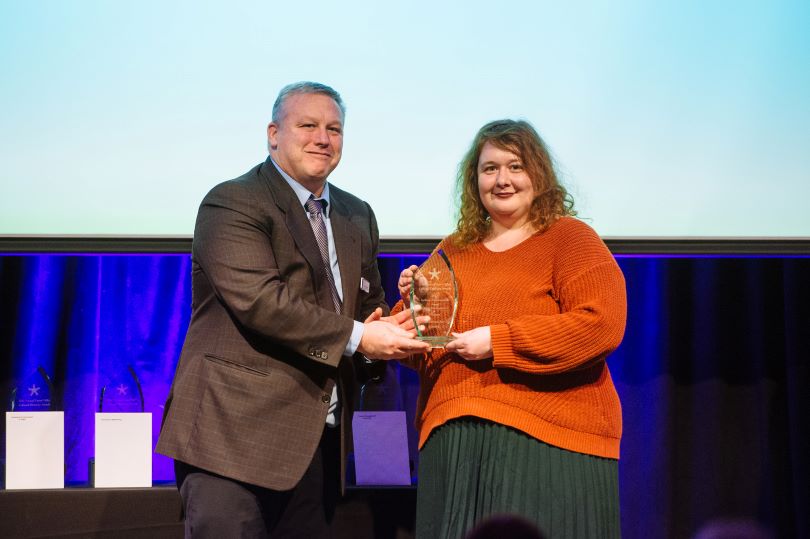 Abbotsford Arts Council (Right) with award sponsor University of the Fraser Valley
TYDEL Foods 
Inclusive Environment (Large) (Chilliwack)
Tydel Foods is a community-based shop in Chilliwack that sells meat at affordable prices for all people; putting people over profit. Anyone can shop here – and the more that do, the more they can continue to support those in need.  
In 2022, Tydel Foods provided over 1000 free meals for low-income seniors, families, and those who simply needed to catch a break. Every week, people gather at the shop to make stew, chili and soup using donated ingredients. Through these collective acts of service, a shared sense of empathy and compassion is nurtured.  
Owner, Brigida Crosbie uses her pension cheques to run Tydel Foods, relying on word of mouth, volunteers, and donations to keep costs down.  
She has been a community advocate for more than 10 years, providing shelter and warm meals for those facing adversity. Crosbie and her husband donate quality meat to the shop, and she is out every day sharing donations collected from the community, such as blankets, shoes and clothing.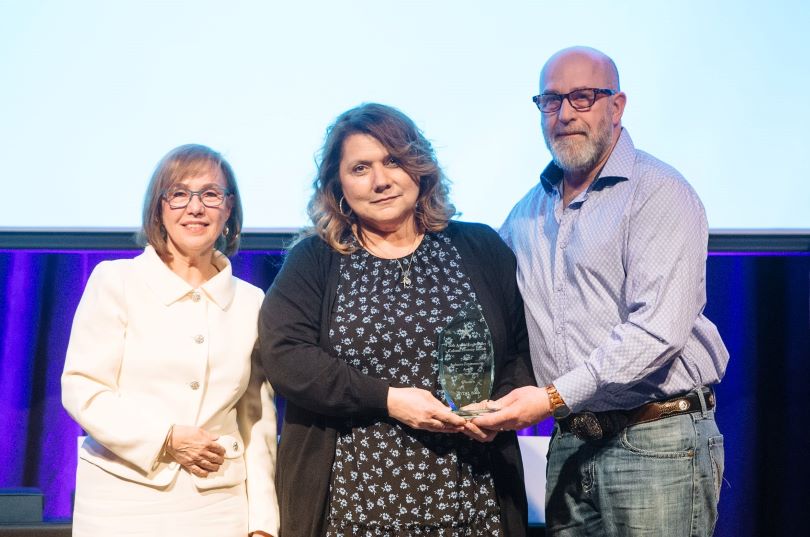 Tydel Foods (Right) with award sponsor Archway Interpretation & Translation Services
Champion of Diversity
(Individuals ages 18+)
Nominees of this category work towards building an inclusive society.
Aman Merdha

Bradley Gionet

Calvin Williams

Kim Snow

Mukti Sharma

Mumuksha Sharma

Peter Bailey

Robert Gabriel

Ross Lightburn-Renaud

Sharlene Brooks

Zeeshan Khan
Youth Champion of Diversity
(Individuals ages 12-17)
Nominees of this category work towards building an inclusive society.
Antonio Hakko

Jasmeen Sran

Lily Renaud

Milana Bekturganova

Nolan Heikkila
Diversity in Marketing
Nominees of this category market and outreach to culturally diverse communities. This is an attempt to communicate different cultural norms, values and languages; and to reflect the diversity of the community.
Inclusive Environment (Small/Med)
Nominees of this category embrace diversity and create a welcoming environment for culturally diverse groups in their organizations, businesses and schools.
Immigrant Advisory Council